Entries:
*SCROLL DOWN*
Entry 01: 05/13/2019 Today was an okay day. I went to school of course. But just like every other day, I didn't feel like going. It's almost over though so it's okay I guess. In my first class of the day, we had to get in these committees we formed with another AVID class, so we could plan our little annual graduation for seniors. This year it's our turn though. In my committee is a guy I have a little bit of history with. That story will be for another time, but it was honestly a little bit awkward. For me at least. We're friends. Not close or anything, just friends. He has a girlfriend now so that kinda changes everything. We can call him Bobby; this probably won't be the last time I talk about him. So that happened, but it was nice to talk to him and get that reassurance that he doesn't hate me. That's one of my issues, I always think people hate me without having any evidence to back it up. It's all mental, I already know it but I just can't help it. I was reading up on it actually because it's quite common. I bought a book based on that to help me. I just want to be a more positive person. My PE class sucked. I suck at all sports and I get tired quickly so softball sucked and when we had to run a warm-up lap, that sucked too. Just one more month and i'm done, out of there. My math class was boring. I'm failing it simply because I don't need it to graduate since I already have all my credits. I spent class time just working on a sonnet for my English class which was crazily enough about Bobby. I will post it once I get it back. My art class was productive as always. I love my art class. That's why I wanna be an art teacher, but more on that another time. We're finishing up some event posters. Mine is a festival poster that's Woodstock and Haight-Ashbury inspired. I basically just sort of combined them. My government class was boring of course. Me and my best friend were just brain-storming ways to convince my mom to let me get a buzzcut. She just won't crack. Finally my sixth period is English and we had to present our sonnets. I went second just to get it over with, but it actually wasn't as bad as I thought it would be. So that's cool. I came home and I started watching Netflix .. specifically The Chilling Adventures of Sabrina because my mom got me into it. I didn't expect to like it, truthfully. But I guess I gave in. I ate and i've been struggling with my weight, just the insecurities of it. I ate quite a bit. Then I went as far as ordering a pizza only about one hour later. I ate more than well, but I ended up regretting it and getting annoyed at myself so I vomited it out. I know that's so bad and I always told myself when I was younger I wouldn't be that person, yet here we are. I've only done it about twice, this being my third time now. Another occurence to add to the list. I just want to lose a little bit of weight. I'll start to watch what I eat now because putting my finger in my throat is unhealthy. Today was just another day, and I hope to see better days. Stay positive, peace.
Entry 02: 05/14/2019 Today was way better than yesterday. I wasn't in my first or second period because I had to take my final test for an online class (which I passed by the way.) I didn't have to socialize with the people in my committee for my first period so that's wonderful. I didn't go to PE because of the test of course; wonderful as well. I had already taken the test last week, but I failed it because I didn't know jack. I cheated this time around which worked in my favor. I did what I had to do. My counselor said I could use notes for it so I might've bent the rules just a tad. Anyways, I finished just in time to get to my math class which is quite a drag usually. The kid that sits in front of me Jacob is the only person that brightens up my time in math class. I don't like him or anything we just always talk music and psychedellics. It's a grand time. We have a test tomorrow which I probably won't do well in because I haven't been listening to any of the lectures. I decided I would fail it this semester since I have all my math credits to graduate already so fuck it I guess. I did ask Jacon to show me how to do some of the work though so I don't feel like a complete idiot during the test tomorrow. Just to occupy my time a little. Next was art and wow. It made my day better because I finished my concert festival poster thing, and I was quite happy with the result. I got a 100 and she even offered to put it in my school's art show. This isn't my first piece going in the art show, but it feels good every time.. like i'm doing something right. Then it was lunch and I just spent it with my friend Betty. My best friend wasn't at school today so that kind of sucked. After lunch was my gov class and man, fuck that class. It was so boring. My friend that sits in front of me Max left me to go work with his group. WHAT. A. DRAG. I was falling asleep until it was time for my sixth period, English. I asked my teacher about my poem and for some reason I asked her if it sucked and she said "of course not. Why would you say that?" she's a very nice lady. She asked me if I needed it because I asked when we'd get them back, but she said she keeps them. I'll just ask her tomorrow so I can post it here (it's about Bobby.) Some shared their poems from yesterday and then we read some Othello, but the only good parts were when our teacher explained what the heck was going on in the reading. Shakespeare is a little hard to understand for me without closely reading it and indulging in thought about it or having it explained to me. It was one of my friends birthday's today. I've known her since fourth grade and we've had ups and downs (she used to be my best friend) but now were just really good friends. we have both grown as people and I left all that in the past. She invited me to her birthday dinner but I know she's gonna have friends over and i'd just rather not be there. It's too late to go now as i'm typing this anyways. I hope she doesn't hate me. I ate after school. My meal consisted of fried chicken my mom brought from work and some macaroni salad. Then I had a slice of pizza which i'm not proud of at all, but i just decided that since I had a heavy lunch, I just wouldn't eat dinner and instead only drink water for the rest of the day. After eating, I spent the rest of my time until now working on this page and changing things until I was happy with it. I found a format I like and really fixed it up to my liking. I've also been learning HTML along the way which is an interesting and valuable "skill" (i'm most definitely not skilled.) I added an email address just if anyone wants to email me, which i must admit, is scary. Anyways.. Stay positive, peace.
Entry 03: 05/15/2019 In my first period, we had to present a travel project Mrs. Gable made us do. Mine was on Netherlands, mostly Amsterdam. After the girl before me went, I felt like my presentation wasn't good enough mostly because my format was sort of odd, but nonetheless it got the job done. It was quick and efficient, while hers was stretched on to be honest. When I presented, a lot of my classmates weren't there yet which made it a little easier. It rained today so I thought we wouldn't have to do anything exercise related in PE.. but of course I stand corrected. Instead of playing softball like we usually do, we had to play rugball (a little worse.) I suck at it (no surprise there) so you can probably assume how it went. At first, I actually scored the first four points for my team since I was close to the guy that caught it and we we're right by the line we had to pass. I got lucky, truly. So when that happened, I felt kinda good and like I wouldn't ruin everything like usual. But of course, like every other time, I did good the first time and then I was horrible every other attempt. The ball was passed to me twice and I didn't catch it both times. I was embarassed. I'm used to it I guess. it just really sucks to be that girl in the PE class. At least i'm not the only one. When people try to make me feel better about that stuff, i hate it because I know i suck, i don't need pity. u know? But it's okay. I'm nice so I don't say anything mean back. After PE, finally, I went to math and took that test. I forgot a lot of stuff from yesterday but it didn't really matter to me. I got an F, of course. At least I put SOME effort this time. Art was the same as always. I started a draft for our new project. I'm drawing an octopus surrounded by sea flowers and maybe bubbles. During lunch I went to an LSU meeting and got my stole for graduation. It was so embarassing for me having to walk up in front of everyone to receive it and get my picture taken. But people clapped so it wasn't the worst. In gov. we worked on an assignment once again (the same one from previous days.) We have to make a bill and my group's topic is on homework. Of course i'm against it and I have reasons/evidence to support my claim so don't try me I guess. English was just filled with Othello and boring-ness. I took a picture of my poem so I can post it here since i'm probably never getting it back. After school I got home and ate some chicken pasta salad. I ate kind of a lot, but I hadn't eaten a real meal the whole day so it kind of worked out. I worked on my page for a bit before I had to go to work. It was a really slow day, but it was fun because me and my co-workers we're just talking it up and laughing about stuff. We like to talk shit about customers (only the ones that deserve it.) I left early and when I got home, I just hung out and watched some YT videos. Then I showered and worked on my page some more. I'm glad I found this becasue it's fun to work on it. Aside from all of this, I think i'm constipated ..sorry TMI.. but it's kind of hard to you know, do the deed. My mom gave me something to help so we'll see what the heck happens. Anyways, Stay positive, peace.
Entry 04: 05/16/2019 School was just another day. It's kind of pointless for me to go mainly because the only periods I actually find "fun" is AVID (barely) and my art class. In AVID we just talked about a field trip, trying to decide what we'd do since the original plan was to go to the beach but it's gonna rain. In PE we were playing rug-ball again and i'm just glad we didn't have to run a lap. It started to rain super hard so we had to go inside. all i have to say is yay. My hair got super curly with the rain and since I have it short, it looked cute. Like messy cute. Everyone kept telling me not to cut my hair short becuase they said I had it straight and that it wouldn't look good with my round face but it ended up looking good. then they were complimeting me. forgive but never forget. After PE, me and my friend got high and it was nice. It had been a while. Math was boring as always. Art was whatever. The same as always. the only exciting things are that I chose the background color for my hippie concert/festival poster. It's a fluorescent green to make it pop and be happy. The other exciting thing is that I started the new and final project. We have to carve designs into this rubbery plastic thing and then use it as a stamp. i'm doing an octopus surrounded by sea plants and a bunch of lines to give it effect, but i might not end up doing that. lunch was boring. i don't even look forward to lunch anymore. i wish i could stay in my art class all day and just work while i listen to music. if only. Gov. was alright. me and my best friend Dulce got to catch up so that was nice. English was a headache. I got home and ate some leftover pizza (yea we still had some there from last time. bite me.) then i watched some youtube. it's a hobby, what can i say. Then spent the rest of my day working on my page. it's been consuming my time, but i'm not mad about it. I'm still constipated, but at least it's getting a little better so there's that. You know, today i've thought about myself and just stuff in general. And.. is there something wrong with me? do people look at me and quickly see the flaws i see in myself? is that all people notice? why am i not like other girls that have lots of suitors behind them? I've never been in a relationship, i've never really truly felt a guy telling me he likes me, a guy has never gone out of his way to want to get to know me. I remind myself that one day i'll find someone, but it's not about that for me. All of that stuff not happening for me leads me to question what might be wrong with me. Also, i want someone to have sex with. sorry if that's tmi but i am young and hormonal. i would feel odd and out of place kind of just hooking up with a random person. I lost my virginity to someone i had just met a week before, but at least i knew some stuff about him so that changed everything. he would hang around me and my cousins in Mexico so it was just different. Anyways, that's just a rundown of my day/thought process. Stay positive, peace.
Entry 05: 05/18/2019 I didn't post an entry yesterday because it was Friday and I did a whole bunch of nothing. I didn't go to school which was sweet. I stayed home all day and watched some more The Chilling Adventures of Sabrina with my sister. Then I had to work at 4 o' clock. It was just another work day. Today, Saturday, I also did a whole bunch of nothing. My sister and I started a new show.. Master Chef Junior. What an amusing concept. At 4 I had work again and it was so dead today. Probably because it was gloomy and raining a lot. The owner was there almost our whole shift and it sucked because she's quite annoying. I got home and watched more TV. Literally no social life. On my way home from work, I started telling my mom how I probably will never find a boyfriend and she said my time will come. Then I tried telling her I don't care about being single, but knowing guys don't go after me like they do ther girls, I questioned if there's something wrong with me. I was expecting words of wisdom from her, but I got nothing. What a shocker. This happens quite a bit with my mom. I try telling her stuff about my feelings but she doesn't react or take the way I wished she did, but i've sorta learned to just not tell her anything about my emotions anymore. I know she cares about me, but I wouldn't be able to say anything about my mental health to her because i'm sure she wouldn't take it seriously. That kind of hurts, but it's what I know now. Don't get me wrong, my mom is a good mom, she's just different. I can't talk to my dad because he probably won't take it seriously either. He probably wouldn't say anything at all. I feel like it's stupid and i'd rather not tell anyone because my feelings about this probably aren't valid anyways. It's okay, I get over things fast. Other than that, i've been a little better about my eating and weight situation. I haven't put my finger down my throat. I still think I need to lose weight i'm just a little better about it. I wrote another poem about Bobby. A sonnet actually. I saw his instagram story and it was his very pretty girlfriend and another friend (i'm guessing) at a party. The poem speaks for itself. Check it out, if you'd like (: Anyways, stay positive. Peace.
Entry 06: 05/19/2019 Today was another yesterday. I wactehd TV all day and at 4, I had work. It was dead again. It wasn't all that boring because my co-worker John is cool. We get along quite well. We got $18 in tips which is pretty great considereing how slow it was. I got high at work which was nice and relaxing. I came home, showered, then had to work on some gov. homework. So ANNOYING. I don't feel like going to school, but that's nothing new. I have to take the bus tomorrow which I hate because my last class is all the way at the back of the school. Not only that, but we have to put our phones in a pouch and it's in a tiny little area, so it takes even longer to get to the bus. The bus I take only comes by once an hour.. what a DRAG. Anyways, stay positive. Peace.
Entry 07: 05/21/2019 Today was kind of a really nice day. My AVID class along with the other senior class went on a field trip to Santa Cruz. At first I didn't wanna go becuase i'm lazy, but then I did and I couldn't have made a better choice. We got there and with my three friends, we were in the downtown area the first two-ish hours. It was really nice. Even though it was raining :/ we walked around and there were lots of cool shops we went in like an eco-friendly one, a shoe shop, a record/CD shop and yea. Then we went to the boardwalk where we ate our Five Guys burgers and went to the beach. Twice. We went to a lot of the shops there and stuff was stolen. Crazy. We left at 2 so we could get home around 3, the time we usually get out of school. Being with my friends at the beach was such a happy and positive experience. It was truly one of the happiest days of my life. Drug free. When I got home it kind of sucked. At least I got to see my grandma for a brief moment. I bought my graduation dress which my mom was supposed to buy for me, but I ended up paying because it was $95. It's a traditional Mexican dress. It's fine, but then I told her what shoes I wanted to wear (some Doc Marten huaraches) and she said no because "it would look ugly." Like what? Just no comment. No comment. I'm fine now. I get over shit quick. Now i'm house-partying (video chatting) jimena's friends. She's 10. Like what? Anyways.. stay positive, peace.
Entry 08: 05/23/2019 WOW. Yesterday I wanted to post but I couldn't edit my site for some reason. I got kind of scared because I thought i'd never be able to do so again. "My time has come too soon" I thought. Well anyways, yesterday I finally went to my schools art show and I got to see my work along with some of my friends work and well.. Bobby's too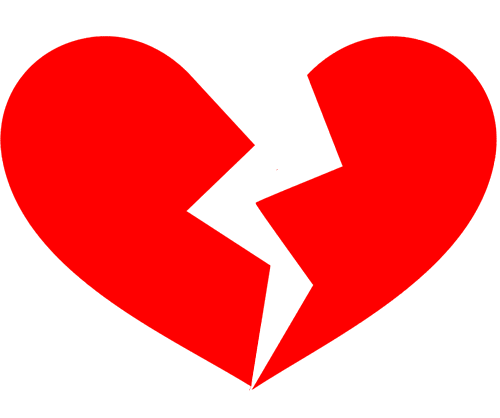 His work is so emotional and deep and just straight up dark. I like it a lot because i'm kind of into creepy and sinister stuff. At the same time it's so cryptic. He's always been creative, unique, and has had mental issues. Not like in a bad way, just goes through a lot of shit. He reciprocates those emotions, thoughts, and feelings into his art like paintings or photography. I can't help but just be so attached to him (secretly.) I guess i'm in love with him, but I don't care to have a relationship with him or anything. He's just very intriguing to me. I don't know what it is that I just can't let go. I don't even know how to explain it. I don't know if I mentioned this already, but he's actually in my committee for my AVID class. We were sitting next to each other the other day, and we talk normally of course. Just about committe stuff, normal stuff basically. He likes to go to SF a lot so we were kinda talking about that. There was a brief moment where we weren't saying anything and then he playfully and softly punched my knee. He hadn't done something like this towards me in a long time. Since he was single. I just said "wow thanks now my knee's broken" he laughed and did it again. I pretended to cry and throw punches. He laughed. It felt good. That feeling of "we're okay. we're still friends." I'd prefer us to be friends than to be nothing. It was nice. The conversation was normal after that. Of course most of the day was extremely boring because my classes are full of nothingness. At least I was excused from third period (math) because I had to go to a practice for Senior Awards Night. It was yesterday, but I didn't end up going. I felt it wasn't worth leaving the comfort of my home. All that was gonna happen was I would get my award (I got the State Seal of Biliteracy) before the actual ceremony, then during, they would present the award and have everyone that got it stand up and that's it. No thanks.. i'll be getting my award next week or so. Today was nothing new. Pure nothingness. Have I mentioned that I suck at softball? In my PE class there's this kid, and I think he has a crush on me. I feel bad. He started talking to me today, and i've caught him looking at me before. When I was up to bat, he said he would help me and he held the bat while I was holding it.. I didn't know what to do. I didn't wanna be mean, but the people around us noticed it too and geez I don't know man. I don't wanna break his little heart, but I could be over-thinking it. In gov we're working on a project and there's a girl in my group that I dislike. I'm sure the feeling is mutual. We have to create a bill, and ours is on homework. We're against it, and she's the only one that disagrees but the bill can't have opposing arguments. Basically we all have to come to an agreement just for the project. She can get pretty annoying with what she says or brings up because she knows we have to support the claim of 'less homework', but she brings up how the bill is dumb and blah blah blah. SHUT THE FUCK UP. We wrote individual essays on the topic for a reason. Literally just go with the project and what it's asking, and stop making my life more miserable than it already is. Your comments are the last thing I want to hear (: Whatever. Now i'm home and I have to take my little sister to her open house so we can see stuff the students have been working on. I don't feel like going, but she wants to go so we can just go for a little bit. Anyways, even though I can improve on this myself.. stay positive, peace.
Entry 09: 05/24/2019 WTF IS WRONG W PEOPLE? i'm so mad at the world. at people at life. i wanna cry, but then i don't want to. I think i'm depressed. i've been thinking this for a while. I never told anyone because i. don't. want. to. talk. about. it. I'd just rather not. Yesterday I felt like i was just really down in the dumps. I was walking with my sister to her open house event thing, and I just blurted it out. She's eleven. She doesn't get it. She doesn't even understand how money and prices work. Then today after school I was really feeling like shit. I had a headache, I just wanted to get home. But I had to get ready for work as soon as I got home. What a bummer. On my way to work I was kinda just swaying my head and playing with my hair with some pressure. Kinda soothing for me. Sometimes I kinda just pull my hair. When i'm alone and feel like shit. Kinda bad I guess. It's dumb. Anyways, on my way to work my mom asked me what was wrong. I said nothing. She asked me if I didn't feel like going to work and I said I never feel like going. She laughed as she always does every time she asks me that question and i answer the same thing. It was quiet and I just said it. Those four words.. "I think i'm depressed." My mom just said "really?" Yea mom. Really. We talked about it a little but it didn't phase her. She just said to try and think what's happened that could be bothering me and causing my depression. I think it's a little more deep than that, but i applaud her for trying. She tried saying stuff to 'get my mind off it' i guess and make me laugh or smile, but i was not in the mood at all. But that's not even the best part! More on that later. I got to work and i saw the owner. i just put in my two weeks at the sandwich spot because the owner sucks, customers suck (mostly), and i've gotten very lazy (or maybe it's the depression.) I told them I was leaving because i got a better job opportunity at the college i'm going to in the fall and i'm going to take it. I really did get that job offer, i just haven't taken it up yet. i still need to go and talk to some people. Anyways, she tried telling me that i don't care about her or the job because she's given me so many opportunities (she's rehired me two or three times) and i'm just leaving despite the situation of the store right now (they have very little employees). Based on the lie I told her, can't she understand school comes before my job, at least right now. I told her that I knew some people applied not that long ago and that she could hire them. It's not my fault she doesn't wanna hire them because they're 'inexperienced'. Whatever. I'll be gone soon and applying at other places in July probably. i'm trying to have a booked summer. i'm trying not to give a fuck anymore. After my shift, i was actually feeling a little better. not so down as before. but of course as soon as i got in the car, my day went back to shit. First, when my mom picks me up from work, i tell her when i'm at the door so she can just pull up as we lock up the store, and no one has to wait. I sent her two messages and she didn't asnwer. That's fine. When I eventually got in the car I simply asked why she didn't answer my messages and she replied as if she was annoyed. "Whatever it's fine. Sometimes you make me wait a long time." i didn't even mind waiting. I told her that i wasn't asking because i was mad or anything. i just wanted to know. Great. We went to Starbucks as we usually do, and i bought metal straw so we would stop using plastic ones. My mom gets embarassed to tell the baristas she doesn't need straws. So i have to do it. Fine. That's fine. But she tries to tell me that we should just take the straws and save them up. What is that gonna do? they're just going to end up in the garbage eventually and then that defeats the purpose of the metal straws. I was just really annoyed. and then my sister said she wanted a plastic straw today which she never usually does. that annoyed me more. When we got our drinks, they put the nitro lids on our cups which made it worse because they use up a lot more plastic than the normal lids. To top it all of, my sister didn't even use her plastic straw because she was sipping her drink through the humongous hole on the lid. I wanted to burst out crying. i know feeling this way about plastic is a little dumb but i'm on my period too so my emotions are through the roof. I got home, set my drink down, and went straight in the shower no hesitation. I didn't look at anyone, I didn't talk to anyone, I just went in the shower. I cried. i let it out. I wanted to cry after school, i wanted to cry after work. I finally let it out. A little after i got in the shower my mom came in the bathroom. She asked if i was okay and if i was crying or something because my sister thought i went into the shower to cry. well she wasn't wrong. I denied it. Here's that best part I was talking about earlier. Mom:"Are you depressed?" Me:"Probably." Mom:"Don't worry it'll be gone by tomorrow!" Me:"Okay." I cried even more. I wish she took it more seriously but here we are. Let me give a run down of my current life events. My dad never calls, i think i'm depressed and my mom doesn't take it seriously, my art probably sucks, i'm ugly, and i'm fat. I just LOVE my life (: I'm not gonna sit here and act like I have the worst life ever. I'm lucky for a lot ofthe things I have, but that doesn't mean it isn't shitty. Maybe i'm just overreacting and this is all just dumb. Also, today during first period, Bobby passed by me towards the end of class and he tapped my arm. All of the little gestures are so subtle, yet they mean so much to me for some reason. I just giggled. one of the highlights from my day. Sorry about the super long entry today. Lots of emotions to run through. Well.. stay positive. Peace.
Entry 10: 05/28/2019 THIS IS ENTRY 10!!! Wow double digits. I feel great today. It's been four days since I updated and i know i suck !!! Anyhow, this weekend i fell into this hole of van life YouTube videos. And now i really want to do it. i'm gonna try to save up as much as possible by next summer and see if it's possible. I'll probably start by just travelling around California, go to different beaches, lakes, fun stuff like that. Then if i'm not too scared i'll go out of Cali. I think it'd be super fun to go to Texas, Las Vegas maybe. Just roam around the coutry. Then eventually when i'm ready travel around Mexico. That's a lot more scary for me though. Even though I AM Mexican. I'm ready to travel and learn stuff about myself. All I have to say is I will eventually travel and i'm ready. On another note, I didn't go to school today which was amazing. It's a waste of my time at this point. WHATEVER. I feel great today. Good vibes most of the day, I feel great. Rock on and stay positive. Peace.
Entry 11: 06/02/2019 Guess who's been making themselves throw up again? Me. It's me. I'm so ashamed. Why do I do this to myself? I just can't let myself gain weight. I don't want to get fatter. I can't. It's Sunday and this weekend was my last weekend working at my job. I was tired of the owner and just working because i've gotten lazier or just more "anti-social" so i'm outta there. I feel good. I'm saving up my tips so I can fix up a van with a cool couch, maybe even a bed, a little counter. I wanna travel man. This week is my last week of high school. Ever. I'm about to graduate and I want it to be over already. This Tuesday I have to give a speech for my AVID class in front of over 100 people so i'm quite nervous, but I did sign myself up for it. I don't know I just wanna remember doing something during my high school days. I wasn't really involved heavily so that's why. I'm planning to wear really good, loose pre0planned outfits for my last week. My style and fashion is something i've come to care quite a bit about.. especially this year (senior year.) But yea. I'm pumped to finish school, give this speech, start a whole new part of my life, and say goodbye to all these people I don't care about. I bought a yearbook which was $100 by the way.. fucking bastards. On top of that, they fucked up a bunch of peoples' senior quotes, including mine. There was nothing wrong with our quotes, yet they still changed them. My orginal quote was "Be groovy or leave, man." - Bob Dylan. I gave credit and everything, and they still hit me with some bullshit. They changed it to "I love you, you love me. Barney" Preposterous. The audacity. That's gonna be under my picture for everyone to see forever now. Fuck the yearbook people. Because of that i'm selling my yearbook to a friend and getting those $100 back baby. And i'm making my own yearbook. One i'll actually be in. I had a blackbook so I put a picture of me from our Santa Cruz field trip on the cover and just filled it with other little things like buttons, little resin figures, and art cutouts from the year. I'm pretty content. I'll just have people sign that. How fun. Well whatever i'm out. Rock on man. Peace.
Entry 12: 06/05/2019 Its been three days. My mind has been spiraling thinking about Bobby. The whole situation and my emotions. Reality. I even went as far as posting on the advice subreddit for, well.. advice. It wasn't much help. The way I see it now is summer is about to begin, I probably won't see him for a very very long time. He's going to SF, so yea. We're so close to starting college and a whole new part of our lives. I know I will eventually get over this, but the way I see it now, i don't want to lose him as a friend. As an acquaintance. I don't know if i've already mentioned this, but he wrote in my yearbook. I asked if he would, and he did. He wrote it on a seperate page far away from everyone else's little messages. I was nervous to read it. I thought, "what is he gonna say?" "what is he going to talk about or mention?" I was nervous. I felt a sort of pit in my stomach and a feeling in my chest. I didn't know what to expect. When he was writing, I could tell he sort of took his time and thought about what he was going to write. That made me more nervous. I will post a picture of his message later. Yesterday was our AVID senior graduation ceremony. I, along with two other classamates of mine, gave a speech. I was so nervous because there was about 100 people there, and I cried. It was really embarassing, but I ended up pulling through. After the ceremony I asked Bobby if he wanted to take a picture with me and he said yes no hesitation which was nice. But who knows what was really going through his head. He's a niCe guY. We took the pictures and they were honestly really cute. In a friends way. In the last picture he looked so happy and even though i was looking somewhere else, the happiness in his face easily made it my favorite picture of us. After school, it was a pretty spontaneous day. I was bored at home so me and my friend Alejandro went to In-n-Out to eat some burgers, and then we went to the movies because why not? It was fun. We hadn't hung out in a while. We watched the movie Hustle. It was pretty interesting. Graduation is in two days and i'm feeling lots of mixed emotions. I always said I wanted it to be over and that I couldn't wait. Now that the time has come, i'm happy some stuff is over. Things like honework, tests, projects, stress, waking up early, etc. At the same time, we're also letting go of so many good things. Seeing people we've built friendships and bonds with daily and overall high school experiences. It's crazy to say this chapter of my life is coming to a close so quickly. I'm truly going to miss seeing people from school everyday. I don't know. I always say i don't cry a lot and i don't care about stuff, but i've really turned into a softie these last four years. I've always been senisitive just not around people at school. Oh how things change. Stay postive. Peace.
Entry 13: 06/06/2019 I signed Bobby's yearbook today. I didn't know what to write. I kind of did it fast because I didn't know what to say and it was all kind of jumbled. But it's in there now. He's so cute. I really do wish him the best. Today was the last day of school and i can't believe it. It hasn't kicked in that high school is over. I know i'll realize it soon enough, but I feel nothing. Earlier today for a second I did feel a tiny wave of sadness.. but it quickly went away. It just hasn't kicked in. I saw my dad today. It had been a while. He of course was quick to comment on my short hair because he hadn't seen me in person since even before I cut it. I cut it in April. I don't care what he has to say though. He has no say. Zero. He's coming to my graduation which is nice and we can hopefully go eat after so we can bond for once after a very long time. I can't believe i'm about to graduate. Truly. I was reading all the messages people wrote in my yearbook, and I can't believe the amount of people that actually noticed me. People i didn't talk to everyday commented on how much they liked my style, and how nice I am. Like what? Truly amazing. My AVID teacher's message to me nearly made me cry. It was so thoughtful. I'll insert it here ---- "Evelyn my daughter! How I will miss you! I know you didn't always "connect" with everyone in the class, but everyone loves you. (Especially me (: ) I hope you see that now, people like your company, like your insights, like your true and honest nature. You are wise and kind and smart and so wonderful. I can't wait for you to see yourself the way we do. Your journey will get you there! You shine. Love you tons, Gable " After putting this stuff in, I decided i'm not keeping stuff anonymous anymore. FUCK IT no one knows me. The only thing that's gonna stay private is anything that has to do with Bobby. I'll be MIA this weekend because my mom wants to go camping. Honestly the stupidest choice ever. The weekend right after my graduation. Sucks I won;t be able to go to any of my friends' grad parties. My grad is on a friday so it's literally right after. Whatever!!! Stay groovy. Peace.
Bobby's Yearbook Message
My Message to him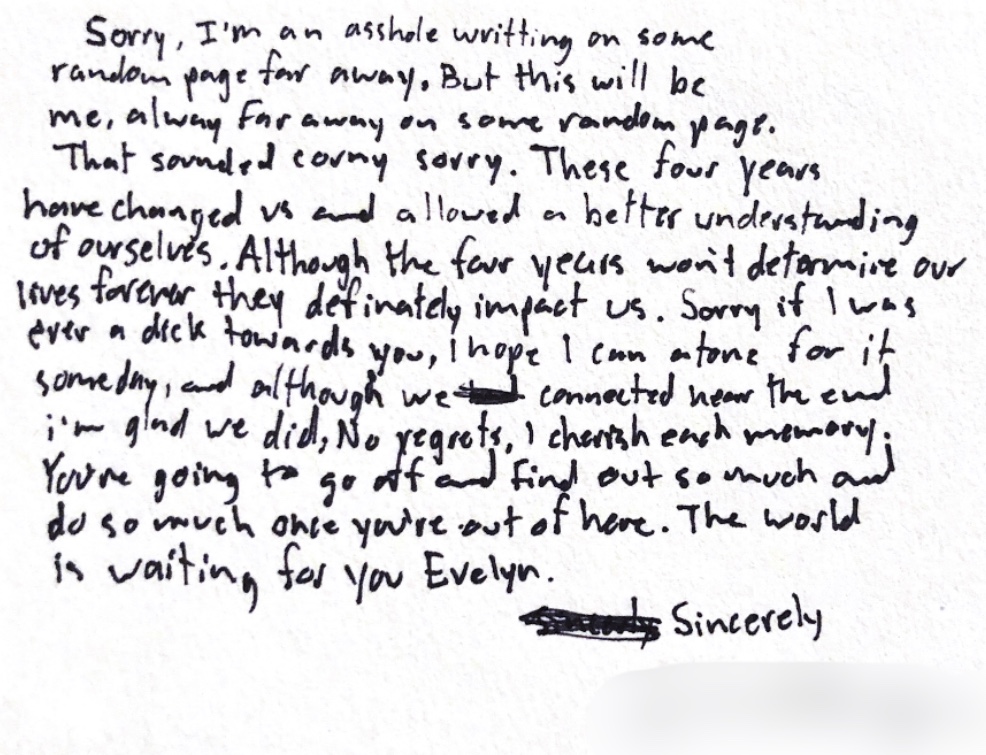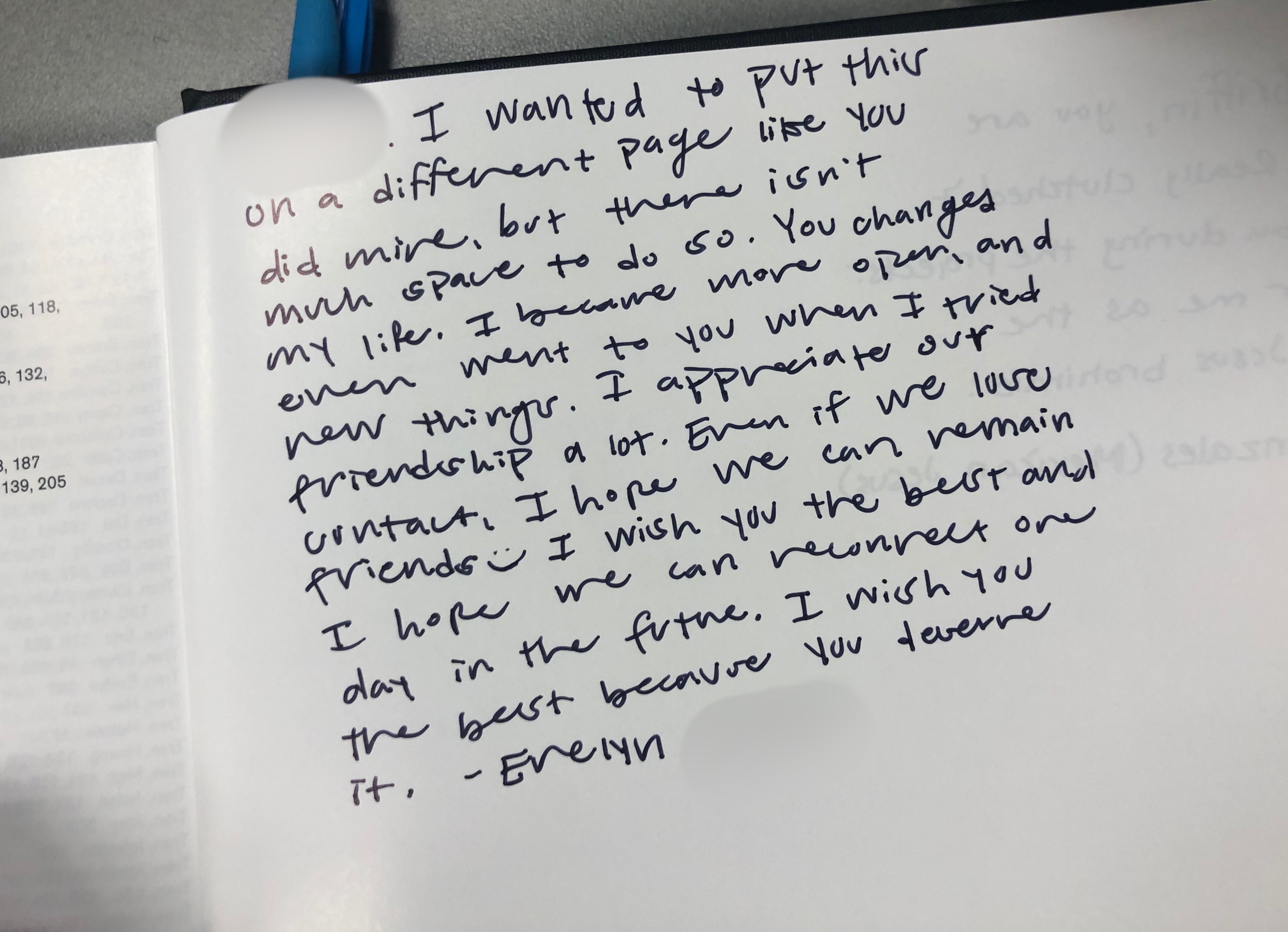 Entry 14: 06/09/2019 It's Sunday. My graduation was just on Friday and.. I'M GRADUATED!! I'm quite happy actually I was buzzed at grad so it was better than it probably would've been. It was great and exciting.. and then I was dissapointed. I made plans with my dad to go eat after, but he didn't even show up. He said that he was in a lot of pain from his foot because he has gout. There were a couple of things that made me upset. #1: He knew he was in pain. The day before when he came to pick up the tickets, he was in pain already. He told me it was because he stopped taking his medication which is pretty dumb. If he knew something important was coming up, why didn't he start taking the medicine again? #2: He wasn't going to say anything. I had to call him so we could find eachother after grad, but it wasn't unti I called him that he told me he didn't go. #3: When I called, he said he was in so much pain that his wife was gonna put an injection on him so he could feel better. He most likely felt the pain from the start of his day, so if he knew it was my grad, why didn't he get the injection way earlier in the day so the pain would go away enough for him to come? I guess he doesn't care enough. #4: They give each student a limited amount of tickets. I gave him two of those. I could've used those two tickets for someone else who actually wanted to be there. It all already happened, but that doesn't mean it doesn't hurt. I honestly cried a bunch. Yesterday morning, Saturday, we took off for camping and it was alright. I pretty much got over the whole situation. It showed me how much my dad "cares." Today hos wife texted me saying she was "so sorry" she couldn't be there and blah blah blah. She said we should go over next weekend and at first I said my sister and i couldn't because it's my aunts birthday party next Sat. I ended up telling her yes though because i'm gonna make them take me to a tattoo shop so my dad can sign off on my tattoo. I'm only 17 that's why. It's a secret from my mom so it's gonna be hidden. I only wanna go to their house so I can get these tattoos and that's pretty much the only reason. Other than that their house is pretty boring. Now i'm at home doing a bunch of nothing, just the way I like it. Stay groovy. Peace.
Entry 15: 06/13/2019 (my time is dostorted so i started writing this @ 10:32PM) It's Thursday. I haven't posted in a while because idk i just got kinda lazy. I have a habit of getting into stuff and then quickly getting over it. But I still really like doing this. Anywaay, my summer has been pretty basic. Aside from going camping last weekend, I haven't done much. We've been going to Starbucks quite a bit cause idk it's something we like. This Saturday it's my aunt's birthday party so i'm pretty excited. Hopefully I can get drunk. My dad's wife actually tried inviting us to their house this same weekend to go sleep over at their house, and at first I said yes because I felt bad saying no. But then I started thinking, and i came to the conclusion we shouldn't go. 1: It's gonna be boring for me and my sister. 2: He doesn't deserve us just going because he feels bad. He wasn't even the one to contact me, his wife did. 3: They only wanted us to go because it's Father's Day Weekend. No thanks. I cancelled, and truly i'm debating whether I should even say Happy Father's Day to him. On many occasions, he didn't say Happy birthday to my little sister. This year he never called, or texted, nothing. Many times before this, he would call a day after, or even a couple days after. Unfair. So that's where i'm at. In other news, my good friend Matthew is going to the marines, so it's getting very close to the day he leaves for bootcamp. I'm pretty nervous for him just because he's my friend, and there's a possibility of him going to war. So that's pretty scary for me and all of our friends. He told me he could send me letters, so hopefully he lives up to that. He leaves Sunday. I think that's pretty much it. Alrighty. Stay groovy. (Time finished = 10:51PM)
Entry 16: 06/17/2019 YOU WON'T BELIEVE WHAT HAPPENED. I wanted to talk about this since yesterday, but I forgot. I posted a picture of myself on my snapchat story and Bobby replied. Shocking. It had been a while. We talked for a bit and he asked if i've worked on any art, but I said not yet. I thought that was sweet. Then he said we should do an art piece together. I didn't know what to say. I want to but i'm scared on top of the fact that we have very different art styles. I'm not even that good. That's kind of all i wanted to say. It took me 20 min to write this LOL. I have long acrylics on so it takes longer. But i kept getting distracted. I went to get my nails two days ago on Sat., with my cousin Elizabeth. Fuck her. She's a big showoff like her mom. Ew. Whatever. Peace. [UPDATE] I forgot to mention that yesterday was Father's Day and I didn't say anything to my dad. Not even a call or text message.
Entry 17: 06/21/2019 yay i'm so happy. All my acrylics are off now, so I can actually type and do stuff. Although it sucks that they only lasted a week, i can do stuff. Me and Alejandro had plans to watch Child's Play, but I realized i accidentally bought tickets for the row right in front of the screen. Like WTF??? I refused to watch it that way because i've been anticipating this movie for months. It's okay though. Two days ago, my mom said they wanted to go to Reno. I wasn't the most amused, but I didn't really say anything. She then got mad at me because she said i'm "always a party-pooper." That really sent me. I've mentioned to her I think i'm depressed. I hate leaving the house. Mostly my bed. I like being in bed. Sometimes I know things/events will probably be fun, but i'd rather not leave my bed. I wish I could have more energy, more desire to leave my house.. am I not okay? Yea. Tomorrow, Saturday, is Dulce's first babyshower. This first one is the one her boyfriends family is throwing for her. The one next Sat. is the ony with all of Dulce's family and all our friends. I'm sure im gaining weight.. it's sad. It's sorta been fluctuating, but i'm trying to work on it. Alrighty. Peace.
Entry 18: 06/27/2019 I feel like so much has happened in the last six days.. but I cant remember any of it. I went to play badminton with Alejandro at the college and it was pretty fun. Thus was about two or three days ago. I also told him how i'm not a virgin anymore. I kept it from him because i thought he would kinda judge me about it since he's very church-invested and he sees virginity as very special. He's about to be 20 or 21, (don't remember) and he still hasn't kissed anyone. good for him. I've been going to the movies a lot. Tuesday.. Jimena, Alejandro, and I went to watch Child's Play. it's a 7.5 out of 10. It was good, but had some flaws (in my eyes.) For one, I wish it was longer. Second, Aubrey Plaza was good, but she seemed more like an older sister than a mom. Third, the kill in the Kaslan car with the cops mom could've been way better. Some stuff also could've used more explanation, but overall a fun watch. Then yesterday, I went to the movies twice. In the morning i watched Toy Story 4 with Jimena and my tia flower. It was very good. Later that afternoon, Avi and I went to go watch Annabelle Comes Home. I enjoyed that one as well, but it had its flaws too. 1.) No one dies 2.) Some stuff doesn't make sense. That's all i can think of right now. I've been feeling alright, but still some body image issues. Maybe body dysmorphia.. i'm not too sure. I've been spending lots of time on reddit. It's quite fun. Last Saturday was Dulce's first baby shower. it was pretty fun actually. i got drunk so that was fun. sunday, the next day, we went to the flea market in modesto and then to an uncle and aunt's house so that was eventful. This upcoming Saturday is Dulce's main baby shower and i'm excited. i wanted to gift her a stroller but someone got her that the last baby shwer so i had to get more creative. I bought her a butterfly picture frame so she could put the first baby picture in there. I also got her the book The Very Hungry Caterpillar because Dulce loves butterflies and she says her baby is her little caterpillar. I feel like it's something very small, but thoughtful so it'll be neat. Tomorrow we're supposed to be going to the fair in Pleasanton so i'm kinda excited, but i'm just going w my mom, her husband, and jimena so it won't be all that. i'll just dress cute and see what happens. Now that it's summer, Jimena and I have been binge-watching How I Met Your Mother, and we love it. it's a good show. I can't think of anything else to say so PEACE.
Entry 19: 07/10/2019 It has been the worst week of my life. A week or two ago, my mom discovered she mysteriously had bed bugs. It was weird because we're pretty clean people, especially my mom. It was pretty bad though. My mom tried washing all her bedding stuff, spraying everywhere with anti-bed bug spray's, throwing away her curtains, and even cutting off the areas she thought were problematic from her bed frame. She even slept in the living room for a noght or two. We we're just relieved there weren't any bed bugs anywhere else in the house. Especially not in my and my sister's room. After about a week or so, her bed bug issue was looking quite resolved. A week and a half later (something like that), I decided to change all my bedding. I got the bedding from outside in our little backyard area. It was stored in a bag that was a little open at the top, and had some visible dirt on it. I looked past it because I thought that just by washing it, it would be fine. I'm the biggest idiot in the world. For almost a week, everything was normal. Then one day as I was lying in bed, as I always do, I saw a bug on my shirt. I got scared and I quickly flicked it away. Instantly my mind went to *BED BUGS*. Stupid bed bugs. I called my momand told her, but I wasn't 100% certain it was bed bugs, but it sure looked like one. So I began to get worried. Later on when my mom checked all around my bed, it was confirmed. It was a bed bug alright. My mind is a little foggy on all the details, but what I do know is that I would eventually keep seeing bed bugs. We would spray everything, move things around in my room, I threw away my bedding, my favorite stuffed animals I had for YEARS (the big white and cream colored furry bunny i would hug. the one i got from the old lady that we gardened for with Marcos. Also your first Build-A-Bear.. also a bunny.) It was actually sad. At first the bugs were tiny. And would only be on the side of the bed that was touching the wall, which led us to believe they were coming from the neighbors through the socket that was there because it was on very loosely. Also because our neighbors aren't the cleanest and had said something about having some kind of bugs in theier WHOLE apartment. We would always kill any we saw, but there would always be one to replace the one before. We sprayed my room about 4-5 times yet here we are. We slept in the living room last night and the night before because I didn't wanna do it. Thankfully they were only on my bed and not my sister's, and there weren't many. They were always pretty small. But still. We got rid of my mattress because it was pretty old and thought that was probably the problem. We changed the loose socket and even hot glued all the way around so nothing could get in or out. We lifted my frame, sparayed the whole thing multiple times, and hot glued and holes, cracks, crevices, and everything that looked like a potential problematic area. We dusted the whole room and vaccumed the whole floor, the whole bed frame, and any little hard to get corners more than once. We moved counters and drawers and checked them in and out to see if there were any in there. But they deemed clean. There was hope and I thought the problem was getting better because we weren't seeing anything. We would check the bed frame and nothing. Today we decided we'd put my moms camping mattress on top of my bed frame so we could sleep in the room again (having the sleeping mattress in the living room wasn't ideal.) We even went to Home Depot to buy some wood to put on my bed frame so the mattress would be a little higher and wouldn't be touching the frame directly. I did my bed with my little blankets, I went on it, and we were in our room like old times. We watched some TV (The Chilling Adventures of Sabrina), a movie even (Iron Man 3)... a little boring. Anyways, I was still looking around just in case I saw anything because i'm kinda traumatized they're everywhere. They really fuck with your head and it doesn't help i'm kinda scared of bugs. But I didn't see anything. After finishing the movie, I decided i was going to shower because I felt pretty nasty since it is summertime. I got off my bed and wanted to put a bed sheet on my bed so it would be a little cooler. Then, what do you know?.. I see something near my pillow. Surprise.. it was a fucking bed bug. And it was a little bigger then the other ones we had found on my bed. My stomach dropped. I thought "great." I quickly killed it with a tissue and called my mom. We checked the bed, and we saw another one! The worst part is that it was on the other side of the bed now. And it was one of the more big ones too. Is this ever going to end? My mom put my blankets to wash, I said good-bye to my build-a-bear, and now we're in the living room again. Any little think I feel, I check to see if something is there. Now I always have to be checking my surroundings to make sure it's clear. This has gotten bad. And just when we thought my moms room was fine, she just found another one on her bed frame. What is happening? This is madness. In the 9 years we've been living in this apartment, we've never had this issue. We don't know whats causing them, why they keep appearing after all our efforts to get rid of them. Bed bugs are a fucking disease. A cancer. I wish I could gather them all and just set them on fire. To hear them squirm and sizzle. If only it were that easy. I feel like i'm dirty and that they're everywhere just crawling. The living room appears to be pretty clean as far as we can see with the naked eye. If they come here though, we're fucked. Actually fucked. Right up the ass. I'm maybe thinking all this is happening to us as a punishment to me because I smoke weed and because I was posting nudes to Reddit for a week or two, but I don't know for certain. I hope not. I hope we can end this because it's really fucking with my head. And it just overall sucks. My mom has been really stressed about this and it sucks because we've been sorts nonstop cleaning this past week. Our efforts haven't paid off yet though. I just hope the issue doesn't get bigger and they don't spread to our cabinets and closet and stuff. That'd be a deal-breaker for me. I would've already gotten the fuck out of this apartment, but money doesn't grow on trees. My mom said we're gonna put those bed bug bombs all over the house, hoping they'll work and solve this issue. We already told the manager so at least she's aware. She gave us a spray, but it has obviously and sadly proven to be innefective. I'm wishing peace on whoever's reading this. A million times more peace than i've felt this past week. SOS.
Entry 20: 07/15/2019 *UPDATE* We still have bed bugs. We threw my mattress away because we thought that was the problem. Although it was oretty dirty and old, it wasn't the cause. Our neighbors have bed bugs and they keep coming from their side to ours through the loose socket. When we think we're finally done with them and everything looks clean, I end up seeing one a couple hours later on top of my bed. It feels like we're never gonna get rid of them. Me and my sister have been sleeping in the living room. I miss basically living in my room. I almost never came out of there, but now i'm barely ever in there. On top of all thid chaos, my gum is sore on my left bottom side. I think I have gingivitis. At first I thought my moler tooth was just getting loose, but my gum is sore. It's scary and it's the last thing I need. In exciting news, me and my sis are sleeping over at my dad's house on Wed. and we're not leaving unitl Sunday. Saturday is my Tio Pegua's birthday party, and it's gonna be really fun. It's at a rancho, there's gonna be tacos, and most excitingly.. i'm getting super drunk. It's been a while and I can't wait. I'm gonna dress cute, and get wastedddd. YAY. Also, i'm getting a tattoo on Thursday. My dad is gonna sign off on it, and i'm really excited! I'm gonna get a hippie-inspired sun close to my tit basically (sort of by my ribs). My mom doesn't know because she doesn't want me to get any tattoo's while i;m living with her, but she won't be able to see it. i have to hide it. I've still been struggling with my weight, but the fucking munchies don't help at all. I only have a little bit of a joint and some loose weed for one more smoke sesh. I can't smoke until next week when I come back, but I might consider taking it to my dads. I don't know how I would smoke over there, but we'll see. I'm gonna try to convince my tio Pegua to buy me a bong. That'd be hella cool. I'll just hide it in my bushes where I hide my weed haha. Anywho.. i'm hoping stuff gets better. PEACE.
Entry 21: 07/23/2019 WOW its been a minute. I haven't posted in a hot minute because me and my sister went to my dad's for a week. It was actually not too bad except that the baby was kind of annoying, but he's only a little over two and a half. Can't blame him. We were getting ready for my tio Pegua's party, going to stores to buy stuff and everything. We went to the lake for a day and rode the boat (me and Jimena even drove it), we took some motorcycle rides, we partied. It was pretty fun. We got to see my dad which was nice because it had been a while. Everything was nice and I kind of discovered the root of why he never really calls. He kind of just expects everyone to call him first. The whole time I wondered why he never called, he was wondering the same about us which I find kind of funny. I also started posting nudes on Reddit again. It was just too fun to not do it, and plus I love the attention. I don't receive that attention much in real life. Another interesting thing.. There's this guy i've known for a couple years in LA (his name is Armando.) We never met in real life, but I know him because he's the cousin of some chicks I know here in the Bay. Well we had always kinda flirted, but it was never anything serious. We facetimed many times over the years, texted, phone called, etc. Well about six months ago, we decided we would meet up at my cousin's quince which is gonna be in LA, just to see each other and well to fuck. Those were the plans. We talked about it many times. Well this past Saturday, my tio's party, I posted pictures of myself on my snpachat and I knew he would slide up and say something. He did. We were flirting, all was well and normal. Sunday we were still kinda talking, but he would lag a lot because he was working. He's a mechanic so that kinda makes him cuter to me. Anyways, I let that slide cause it wasn't the first time. Come Monday, and the same thing. I would say sexual stuff because that was kinda the foundation at that point. And he would be very dry about it. For example, he said he was tired, so I told him that if I was there, i'd suck his dick to make him feel better after a long day. All he replied were laughing emojis. And then he just answered something else I had asked him, unrelated. So I thought, okay, he is working and maybe he can't talk too much. I asked him to send me a picture in his uniform because he'd done that before, and I liked it. And he sent it. Well the conversation was pretty dry, so I brought up how the quince is in two weeks and if we were gonna meet up, we had to figure something out. Well once I said that, he said "ooh y yo aca tengo morra" with a laughing emoji. So i got confused and asked him to elaborate. He then confessed to me he had a girfriend and that it had just recently happened. Well it must've happened the day before or that same day because on Sat. he was acting very fucking single. Fucking bitch. FUCK THAT GUY. FUCK HIM. FUCK. FUCK. FUCK. Whoo okay, relax. It just makes me mad that he didn't say anything that whole time, and I was there like a pendeja talking to him the way that I was. That's embarassing for me. And he had the audacity to say "Yea I didn't know how to tell you I felt pretty bad. But don't worry i'm not gonna tell you anything you said. This is gonna stay between us." THAT'S THE LEAST OF MY WORRIES YOU CUNT. I don't give a fuck about her or if you tell her. I'm mad that he made me look and feel stupid. Alli estaba yo como pendeja. Ugh it just makes me so mad. He's not even all that so who does he think he is. You give an ugly guy a chance, and he runs with it and thinks he's the shit and he can do whatever he wants. Why did he lead me on those two days? He could've easily just said, you know what dude, I have my eye on another girl and I don't think we should do or continue this. Ugh. I'm annoyed. But the fact que me seguia la corriente and he even sent me that picture in his uniform, like wtf is wrong with you? Eh whatever he was too skinny for me anyways. I probably would've broken him, and his dick is only five inches. Yawn. After he said that whole spiel of how he wouldn't tell her anything, I just replied "okay" and I deleted our whole chat because I didn't even wanna see if he had opened it or not or if he was gonna reply. I didn't wanna see his name. Fuck that guy. Better things will come. Well aside from that, Dulce is about to pop any day now and we're all very excited. Also, this morning i accidentally hit the back of my head really hard on a winow ledge and it hurt so bad. Luckily it didn't bleed, but i'm scared there could be internal damage or bleeding or something. I just hope everything turns out okay. My painful gums are doing better.. the pain is pretty much gone, but I am worried about my right side because I feel like I have a cut or something. It's been there for a while though. An *UPDATE* on the bed bugs. They were always suspiciously returning no matter how much we cleaned until my mom and her husband decided to sleep on my bed, only to end up finding lots of them and hundreds of eggs inside the wood. In both my and jimena's beds. We immediately threw away the beds and we're getting new ones. They're also gonna change our carpets to hardwood floors to avoid all this. We're all pretty excited. Well that's it for now so.. PEACE.
Entry 22: 08/07/2019 So I haven't posted in a long time bcauyse i've gotten pretty lazy this summer. I've been spending a lot of my days in bed watching TV or on my phone. It makes me quite sad actually. It's bad for my health too. I'm sure of it. The bed bugs are mostly gone. We've done our best to keep them away and kill every single one we can, but it's hard. They rarely come out now and everytime we see one we douse it on alcohol. Also, we still don't have those fucking hardwood floors. They take forever. I'm still struggling with my weight.. i'm pretty sure i'm bulimic. That's right. Bulimia. It's sad. I haven't been making any art either because i've been a lazy fuck. I still don't know how to drive, and school starts in two and a half weeks. I've been trying to get back on my YouTube grind but being lazy lately isn't working in my favor. I have done some fun things this summer actually. Gone to lakes a couple times, been to the movies, smoked some weed. DULCE HAD HER BABY GIRL. I almost forgot. She's so beautiful and everything turned out well. We're all v happy about it. Some guy from FB tried talking to me, but he was being all weird. He's cute but he was saying stuff like calling me princess and baby and also asking if i could meet up when it was already nighttime. Like ew no motherfucker. Ew. I don't even know what else to say >.< Okay well peaceeeeee.
Entry 23: 08/11/2019 This weekend that just passed we went camping just me, my sis, mom, and her husband. I thought it was maybe not gonna be very fun, but it was. Me and Jimena got in the water and it was actually quite swell. I got pretty burnt though so that's my only negative. I went to the dentist on Fri. and now i'm getting my wisdom tooth removed from my bottom left side. I'm kinda nervous because the injection for the local anesthesia is gonna hurt, and the pain after the anesthesia wears off is gonna suuuuuuck. I'm gonna have to take pills for the pain and i already hate taking pills so that's gonna be a bust. At least the discomfort will go away. Something else, i'm not going to college until next semester in January because i don't have my license and we can't figure out my mode of transportation. I'm too much of a baby to Uber or Lyft to school, so that won't work. The bus was confusing at first, but then we realizedd i'd have to take two buses. Not only would that be difficult because i'd have to leave super early, but i have to get jimena ready for school so it clashes. We just concluded that the easiest thing would be to just take a semester off, and then get my license in that time so i'd be ready for January. Although i'm excited to not be going to school for a couple months, i'm gonna start later that most people, so it's kinda gonna suck when everyone is settled in, and i'm "new to the game." But better late than never. On another note, there's this guy I know named Sam and i always thought he was v cute and kind. We've always been pretty good friends, didn't always talk, but our conversations always held up pretty well. Recently he posted on his snapchat that he went to go watch "Scary stories ot tell in the dark" or something like that, and i slid up telling him to let me know if it was a good watch. He said yes and we got into a conversation about the new IT: Chapter 2 movie coming out next month. After a while I got the courage to say we should go watch it together. He said yes and he was very kind about it saying stuff like "yessss we both seem to love IT so much" and "we'll make sure of it." He was being nice but now i don't know if it's just a friend thing or a date, but it should be happening reagrdless. I'm gonna ask a mutual friend Jamie, his best friend actually. She should be able to give me some answers. If it's just a friend thing then i'll invite Jamie and her boyfriend too so it isn't any kind of awkward. Another thing, I feel like a bad friend because I haven't gone to see Dulce or the baby. But now that I think about it, it's good to have given her some space to settle into the mom life for a while. We actually have plans for Thursday, but Jasie went to visit today. It always seems like Jasie is a better friend and i'm scared to be replaed by her in the best friend dept. Dulce always gives me reassurance though so that must mean something. I know how our friendship works and what we each bring to the table so it's okay. Even though they hang out and have hung out way more, I know how each of our friendships works and how Dulce sees each one of us. It is quite different actually so that gives me some peace of mind. Well i'm gonna go now so peace out.